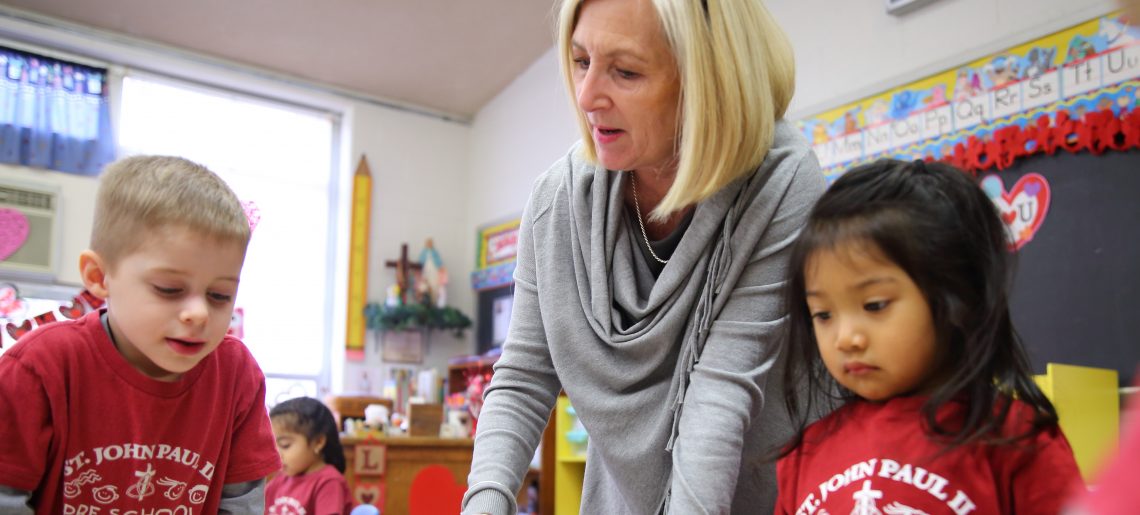 Our full-time teaching staff at St. John Paul II Regional School holds New Jersey State Certifications in Education.
Mrs. Helen Persing – Principal
Telephone: 856-783-3088
Email: principal@jp2rs.org
Mrs. Persing holds an M.A. in educational administration from Rider University along with a B.S. in business management. She has both her NJ State Principal/Supervisor Standard Certification and NJ State Elementary School Teacher Standard Certification, and she completed the New Jersey Leaders to Leaders Program in October 2008. Mrs. Persing was nominated 2013 Camden Diocese Principal of the Year.  She is beginning her tenth school year as Principal of St. John Paul II Regional School since its inception in 2008 and was Principal at Queen of Heaven School in Cherry Hill for two years prior.  Mrs. Persing taught middle school math, science and language arts as well as second grade in the Diocese of Trenton where she was named Outstanding Catholic Educator. Mrs. Persing is passionate about Catholic Education and continues to devote her time to meeting the needs of the students at St. John Paul II R.S.
---
Mrs. Dianette Delgado- Administrative Assistant
Email: ddelgado@jp2rs.org
Mrs. Delgado holds an Associates degree in Office Systems Technology Administrative Assistant from Camden County College. She brings several years of  business administration, human resources, and clerical experience to our school office.  Mrs. Delgado feel privileged to work in a Catholic elementary school, and enjoys interacting with students and parents. Outside of school, Mrs. Delgado enjoys reading with her three children, laughing and singing with them.  She enjoys singing for her church choir and volunteering for church activities.
---
Learning Center
Mrs. Joanne Bertini-Learning Center Instructor K-5
Email:  jbertini@jp2rs.org
Mrs. JoAnne Bertini holds a B.A. in sociology and elementary education from Rutgers University as well as Teacher of Students with Disabilities degree from Rowan University. With over 15 years of teaching experience in the Camden Diocese, she brings a fun and creative style to ensure that all types of learners succeed. Mrs. Bertini believes that every child has a special talent or interest and she works to tap into those areas for students to love attending school every day. She infuses religion into all subjects through books, Bible stories, Saint of the day or a proverb that relates to a present topic. Students will learn through hands-on activities to enhance math and science skills and promote curiosity. In her spare time, Mrs. Bertini enjoys time with her family, walking her dog and attending education workshops to stay up with current trends.
---
Mr. Bill Miller – Sixth Grade Homeroom; Learning Center Instructor 6-8
Email: bmiller@jp2rs.org
Mr. Miller holds a B.A in literature from Stockton College and A.A. in journalism from Brookdale Community College.  Prior to his career in teaching, Mr. Miller published over 4,000 stories as a newspaper reporter. He works with his students to always treat each other with respect while working together and learning to communicate concepts and opinions.  Mr. Miller's students learn to express themselves in writing with daily topics ranging from opinion and current events to short fiction.  He works to improve spelling, vocabulary, writing, and reading comprehension.  In math, his students work to strengthen core processes and work towards higher concepts.  Outside of the classroom, Mr. Miller enjoys reading, live theater, and board games.
---
Mrs. Denise Ballerini-PreSchool
Email:dballerini@jp2rs.org
Mrs. Ballerini holds a B.S. in business and a graduate-level teaching certification and has taught at the preschool through second-grade levels. Mrs. Ballerini believes in faith-based education and is very excited about teaching preschool children.  She appreciates how her students genuinely accept one another and enjoy celebrating each other's achievements.
---
Ms. Valeria Marinero-Kindergarten
Email: marinero.v@jp2rs.org
Ms. Marinero grew up in South Jersey as a member of the Our Lady of Guadalupe Parish Community. She holds a B.A. in Criminal Justice from Rutgers University and A.A. in Criminal Justice from Camden County Community College. Prior to her career in teaching, Ms. Marinero worked as a paralegal in immigration, for over 3 years. Ms. Marinero is currently taking the alternate route to becoming certified as a teacher. Outside of the classroom, Mr. Marinero enjoys cheering for all Philadelphia sports teams, trying new foods, and spending time with her family.
---
Grades 1 to 5
Mrs. Patricia Babnew-First Grade
Email: pbabnew@jp2rs.org
Mrs. Babnew holds a B.A. in early childhood education from Holy Family University.  She has over 11 years of teaching experience teaching second grade in the Archdiocese of Philadelphia and also in the public school system working with autistic children. Mrs. Babnew believes in active learning where children benefit from hands-on activities and are an integral part of the learning process. She wants her students to be excited about learning every day. She looks forward to first grades' traditional Saints Project and developing strong math and literacy skills in her students. Most importantly, Mrs. Babnew wants their love of God and each other to grow in our great school community!  Mrs. Babnew teaches Children's Liturgy at her parish on Sundays and enjoys reading, traveling, and spending time at the beach with her family.
---
Mrs. Kathy McBride – Second Grade-Long Term Substitute
Email: sbailey@jp2rs.org
---
Mrs. Brenda King – Third Grade 
Email: bking@jp2rs.org
Mrs. King holds a B.A. in elementary education with over 25 years of K-8 teaching experience. She is eager to engage her class in writing workshops to encourage students to be lifelong writers. Mrs. King believes third grade is an exciting and challenging year when students learn many new skills across the curriculum.  In her personal time, Mrs. King enjoys reading, spending time with her grandson and "glamping."
---
Mrs. Erin Amos – Fourth Grade
Email: eamos@jp2rs.org
Mrs. Amos holds a B.S. in science from Drexel University and brings several years of Catholic school teaching experience to our school. She believes one of the most important things about teaching fourth grade is building her students' skills and confidence so as to become more independent. In addition to teaching all major subject areas, she will share her passion for all things language arts – reading, writing, and grammar. In her spare time, Mrs. Amos enjoys her time with her family and watching sports together. Reading and writing are Mrs. Amos' passions.
---
Mrs. Sharon McCullough-Fifth Grade
Email: smccullough@jp2rs.org
Mrs. McCullough holds a M.A. in education from Gratz College and B.A. in education from Gwynedd-Mercy University.  She brings seven years of elementary teaching experience in the Philadelphia Archdiocese.  She believes the best thing about teaching fifth grade is preparing students for middle school by helping her students adapt math concepts in real-world situations and use manipulatives to increase their understanding.  She is excited to study our country's rich history with fifth grade, including the American Revolution, and looks forward to her class presenting a live wax museum of key historical figures. When not teaching, Mrs. McCullough enjoys outside activities with her family, watching college basketball games, running, and reading.
---
Middle School – Grades 6-8
Ms. Kaitlyn Creel-Sixth Grade Homeroom; Sixth, Seventh, Eighth Religion
Email: k.creel@jp2rs.org
Ms. Creel graduated from Rowan University with a Bachelor's degree in Liberal Studies and a minor in Education. This is my third year teaching at Saint John Paul II Regional School but I am returning after spending a year in the early process of religious formation with the Franciscan Sisters of the Renewal. I am very excited to be back at JP2!  The faith is my life and I'm excited to share that with my students and see how they will grow in their own relationship and encounter with Jesus this school year.
---
Mrs. Mary McKeown – Seventh Grade Homeroom; Sixth, Seventh, Eighth Math
Email: mmckeown@jp2rs.org
Mrs. McKeown holds a B.A. in elementary education and history from Nazareth College, Michigan.  With over 35 years of experience, Mrs. McKeown focuses her teaching on the belief that children should feel comfortable learning, asking questions, and knowing that they will get the help they need. She is excited to begin teaching a new math curriculum to students that she helped develop for the Camden Diocese.  Mrs. McKeown works to prepares middle school students with the rigors of high school math by teaching two levels of Algebra based on students' abilities.
---
Mr. Matthew Frankunas – Seventh Grade Homeroom; Sixth, Seventh, Eighth Language Arts
Email: mfrankunas@jp2rs.org
Mr. Frankunas holds a B.A. in elementary education and social studies from Rowan University and has over 10 years teaching experience. Mr. Frankunas has been an ABA Facilitator for the Washington Township School District since 2001, where he provides at-home instruction to students with autism. He is a member of Phi Alpha Theta (National Historical Honor Society) and Honor Society.org. 'Mr. Frank" provides students in his classroom with a skill set to develop strong research, writing and public speaking skills. He motivates students to think for themselves and develop strong problem-solving skills. In the classroom, while learning the traditional components of Language Arts, students will also learn various historical periods, issues, and cultures based on the novels they read. Mr. Frankunas is the director of our school's spring plays, which have included: Aladdin, Snow White, The Little Mermaid, and The Lion King. He feels theater is an excellent way for students to express their creativity and to build a sense of community within the student body. His interests also include: zoology, mythology, and film/art history and brings his love of learning to the classroom.
---
Mrs. Danielle Hurd – Eighth Grade Homeroom; Sixth, Seventh, Eighth Science
Email: dhurd@jp2rs.org
Mrs. Hurd holds a B.A. in elementary education and psychology with over 15 years of teaching experience. In addition to science, she has taught language arts, mathematics, and religion in fifth through eighth grade. Mrs. Hurd motivates her students by incorporating creative, educational programs into her science lessons. Her science classes frequently work in our new Science Center with laboratory experiments and observations to follow up on material taught in the classroom. Mrs. Hurd also enjoys using the smart board with her students, sharing PowerPoint presentations, and using Science World magazines that are internet friendly.  Mrs. Hurd runs Science Explorers after-school club for Grades 1-5 and facilitates student council activities.
---
Ms. Melissa Cardillo-Eighth Grade Homeroom; Sixth, Seventh, Eighth Social Studies
Email: mcardillo@jp2rs.org
Ms. Cardillo holds a M.S. in elementary education-reading specialist and B.S. in elementary and special education from St. Joseph University.  She minored in Autism Studies and taught special needs in the Archdiocese of Philadelphia. Ms. Cardillo believes in fostering a fun and caring classroom environment for her students.  She will integrate technology in her social studies lessons for students to learn exciting facts about the Ancient World as well as the history of our country. Ms. Cardillo runs our Yearbook afterschool club and facilitates student council activities.
---
Ms. Ana Curiel-Spanish
Email: acuriel@jp2rs.org
Ms. Curiel was born in Spain and has lived in several different counties such as England, France, and Mexico. She holds an Associate degree and has worked as a Technical Nurse Aide and a Clinical Laboratory Technician. She has been a volunteer Spanish teacher for adults in France and has been a Spanish tutor in the United States for two years teaching grammar and conversational Spanish. Ms. Curiel wants her students to learn Spanish, its culture and to have fun with activities and plays. She wants her students to be able to communicate with each other and other Spanish-speaking individuals. Ms, Curiel is married with two boys and a cute cat. She likes to spend time with her family traveling and playing tennis. She enjoys reading and crocheting.
---
Ms. Laura Taraskus-Music
Email: ltaraskus@jp2rs.org
Ms. Tarakus has been a professional, touring musician for over 23 years and has been teaching private piano, guitar, vocal, and stage performance for over 18 years. She believes that music is a universal language and hopes to teach the students the many ways to express themselves, communicate and worship through music. Ms. Taraskus wants the world of music to be fun and that it is much more than notes and scales. Ms. Taraskus plays the Guitar, Piano, Drums, Bass and Violin. She also sings and composes her own music. She has sold over 50,000 copies for her solo, independently released album. She is dedicated to St. John Paul II Regional School and to our music program.
---
Ms. Nichole Ayala- Art
Email: n.ayala@jp2rs.org
Ms. Ayala has a B.A. in Art from the College of St. Elizabeth (now Saint Elizabeth University).  She taught K-8 Art for 12 years at St. Joseph Regional Elementary and is very excited to continue her teaching career in a Catholic school. Ms. Ayala believes that when students experiment with different art mediums and make "mistakes" they create amazing works of art and find their individual styles.  Outside of school, Ms. Ayala enjoys painting, spending time with her cats and dogs, and reading.
---
---
Teacher Assistants
Mrs. Angela Lipenta-Kindergarten
Mrs. Denise Mount-Outdoor Recess
Mrs. Diana Peralta-Outdoor Recess
Mrs. Tricia Bonagura-Kindergarten
Mrs. Lynda Chesterton-Outdoor Recess
;